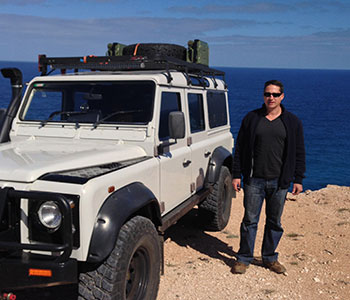 Dave's passion for exploring this great country by 4WD was kindled very early in life when at the tender age of just three he started watching the Leyland Brother's "Off the Beaten Track" specials on television. Mike and Mal Leyland would push into the truly remote and untamed areas of Australia in their Land Rovers usually equipped only with gear they had custom built themselves. What a life!
Growing up in the Blue Mountains, now a World Heritage National Park, Dave had the beautiful Australian bush literally as his back yard. By the age of just eight Dave would navigate his way through the bush and into the deep valleys near his home to catch Yabbies in the creek or Bearded Dragons on the escarpment. He would spend allot of his time just exploring to uncover that new cave or swimming hole that he had never seen before, looking and listening to get glimpse of a Lyrebird or to see a native Quail and her chicks go running past in a line behind one another. Dave's appreciation for the Australian bush and it's wildlife was now underway.
Jumping ahead to High School Dave continued to follow these passions by completing formal Environmental studies as well as extra curricula activities including abseiling, rock climbing kayaking and canoeing. He also completed his Duke of Edinburgh's award which includes navigation and hiking skills.
By the end of High School Dave now had his drivers license and had purchased his first 4WD. He took every opportunity to go out and explore and increase his skills 4WDing. It was about this time that Dave also joined the NSW Rural Fire Service as a volunteer fire fighter. Having seen the devastation that bush fires had caused whilst growing up, he wanted to help the community and assist in mitigating the fire risks in the area as mush as possible. During his time with the RFS Dave has completed formal training in off road and emergency response driving (heavy vehicle), navigation skills and is also a remote area specialist with helicopter winch certification. Twenty six years on, Dave is still heavily involved with the RFS and is currently serving as the Captain of a local Brigade.
During his professional life Dave has spent 16 years with a major Australian Corporate and prior to returning to running his own business was an HR manager specialising in Learning & Development.
• Certificate lV in Workplace Training and Assessment
• Senior First Aid Certificate
• Drive and Recover a 4WD Vehicle (SISODRV302A)
• Advanced Drive and Recover a 4wd vehicle in Difficult terrain (SISODRV404A)
• Coordinate Recovery of 4WD vehicles (SISODRV405A)
• Basic and Advanced Driver training
• GPS navigation Training
• Bush Mechanics Course
• Member of the Australian 4WD Association