Recent Posts
I hope you're all doing well. Today, I've got some tough news to share about a product I've been...

Welcome to my channel! I'm Stephan Fischer, a seasoned 4WD driver trainer and assessor,...

A little camping hack for controlling small things in the kitchen drawer is shared in Episode 5...

In Part 4 of our Victorian High Country 4WD Adventure, we explore the stunning Butcher Country...

 ============================= GEAR AFFILIATE LINKS (only the gear I use and recommend):...
Secrets of the Victorian High Country: A 4WD Adventure
09.12.2015
by Stefan Fischer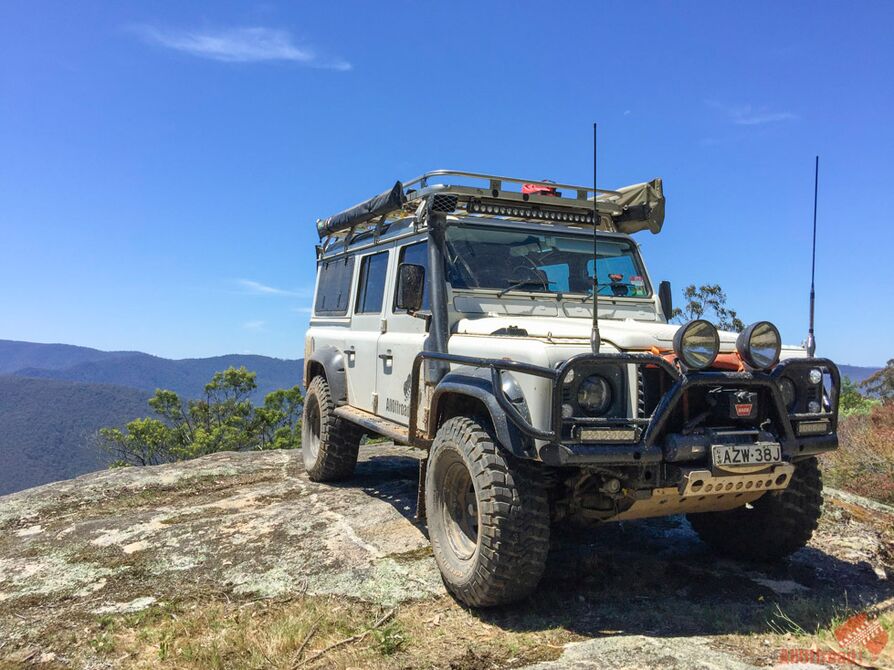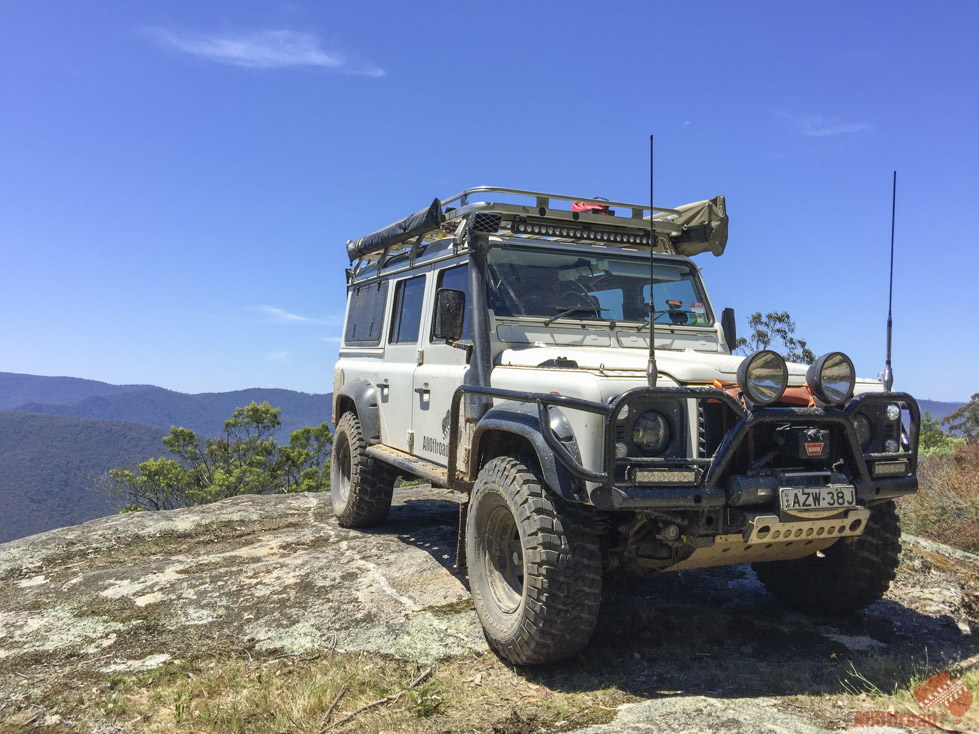 The journey in the
Victorian High Country
began at 6:30 in the morning on November 14th, 2015. We head to the second river crossing of the Murray River at Tom Groggin, but unfortunately it was not passable. The first crossing was not much better, so we had to come up with a Plan B.
We decided to stay overnight at a Tom Groggin before starting our 4WD adventure to Mt Pinnibar. The water was lower in the morning, but still far too deep to attempt. So we made a detour to Geehi Hut and drove along the Geehi Walls Track. Here we had much better luck and were able to make it to Major Clews Trail. We then looped around to Corryong and Jack Riley's (The Man from the Snowy River) Grave, where the views were just beautiful. That night we stopped at the Shady Creek Recreational Site also called Mt Pinnibar Hut.
MOUNT PINNIBAR HUT TO THE POPLARS: NOV 15, 2015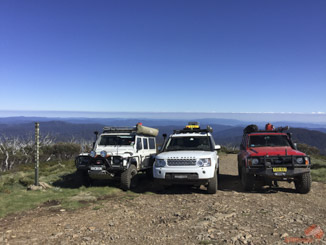 It was a beautiful, clear day in the Victorian High Country that we started by driving along the Mount Pinnibar Track. The views at the top of the mountain were phenomenal. Next we drove along the little more difficult Mt Gibbo Track and over Mt Anderson. All of our vehicles made the journey to the top of Mt Gibbo without a hitch. We then drove along Charlie's Creek to the quite remote Poplars Camp Ground, where we stopped to rest for the night. Here I saw my first Platypus in the wild and Joachim saw the same Tiger Snake twice, sun bathing on the sand close to the river just where I had a wash ½ earlier
THE POPLARS TO NUNNIONG PLAINS NOV 16, 2015
On Monday morning we left The Poplars to start on the first track; the Limestone Creek Track. It was quite a steep track with some smaller ruts and rock steps, but it was nothing too crazy. There were also a couple of river crossings, but fortunately they weren't too deep. We then head to Native Cat Creek, which was an easy track to drive along.
The next bit of our adventure took us along Garron Point Road towards Hell Hole Hate, where some points were quite steep, windy and narrow. Actually I read that many people have been stuck here, so it was a challenging part of our adventure. Luckily, we made it to the bottom and the scenery was beautiful. It was well worth the detour. We then drove through thick bush and all of a sudden plains opened up and we enjoyed a stunning view. It was so beautiful here that we decided to set up camp for the night.
NUNNIONG PLAINS TO LOWER NUNNIONG PLAINS: NOV 17, 2015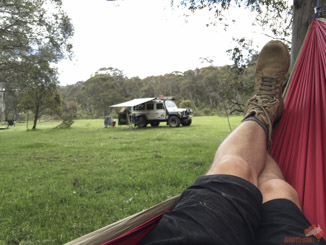 Tuesday morning was beautiful. There were some deer running around the camp and we were happy that we followed our hunches and got off the beaten path. It was definitely one of the top 5 camping places I have been to.

We discovered an interesting hill track so we are decided to turn off and see where it lead us. We hit a deep, loose track that took a few tries to get over, ending at the 200m Lake Hill Walking Track which ends at very picturesque little Mountain Lagoon. Next we drove along the Bindi Track, which was a fairly easy track, though there were a lot of dead, fallen trees. Unfortunately one fell right across the track, creating a dead end for us. However we grabbed our back pack and walked to Mt Bindi, on our way we saw eagles and Brumbies "Wild Horses)

Next we drove along the Escarpment Track to The Washington , which was the only logging system in the country that used a high lead system. We then ventured along the more difficult South Escarpment Track to Moscow Villa Hut in Bentley's Plain.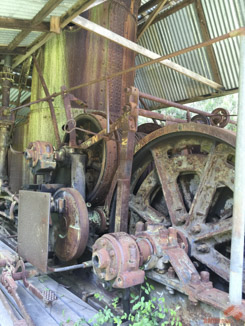 Spike Jones Track was our next adventure or better de-tour and one of the main tracks to the Lower Nunniong plains was closed for road work; an easy but completely overgrown track. After that we followed dead end track towards Murphys Hut deep in the Lower Nunniong Plains, it was so beautiful here that we decided to stop for the night.
LOWER NUNNIONG PLAINS TO BUCHAN: NOV 18, 2015
We had a beautiful night at Murphy's Hut before setting off to explore the area. We drove along the Gronow's Track, which easy and picturesque. Unfortunately when we got to the end there was no way to get down to the gorge, so we have to head back.
We drove down the Demon Track, which took us to Plain Hill Track, which was quite difficult. Actually the first half of it was uneventful, but the second half was fun to drive. We stopped for lunch at Mellick Munjie Falls, which was stunning.
Next we drove to Mt Stewart to enjoy the views. Green Hill Track took us on a stunning drive down the mountain towards Bucket Hill River. Happily the river was passable so we didn't have to turn back. We even got to have a refreshing swim. We were back on bitume for the first time since day 1. We had an amazing day, with river crossings, steep hills and ruts. The day ended at the Buchan Caves Camping ground.
BUCHAN TO ASH SADDLE: NOV 19, 2015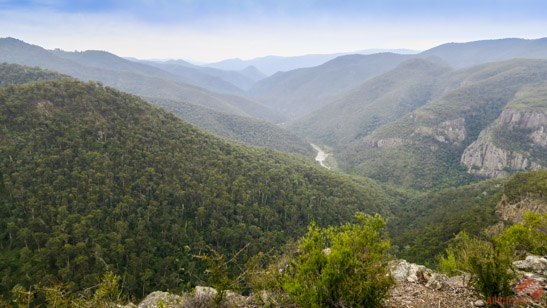 We started the day with a hearty breakfast at the Buchan Valley Roadhouse as well as a fuel top up and then made our way to Buchan Bluff. Old Basin Road to Jacksons Crossing was the first big journey of the day, which started off okay but was difficult in the end. The crossing is on private property so you need permission to pass. Luckily we were told it would be alright, though we didn't know if it is passable. Jacksons Crossing Track was a reasonably difficult track and the crossing was quite long, and had reasonably high water levels so we decided to give it a miss.

We then slowly started heading towards home, driving up Running Creek Track. This was a very difficult track that was steep with loose surface. If it were wet it would have been nearly impossible. The difficult New Guinea Jeep Track took us down 500m, but it was super overgrown. So much so that we had to go back up after only making it half way down! We then had to look for a spot to camp, but not before hiking to the top of a rocky outcrop that we spotted. It was a difficult walk but the view was phenomenal, overlooking the whole valley.

That night we stopped at Ash Saddle. The trees here were massive. It was like being in a scene from Jurassic Park.
ASH SADDLE TO BARRY WAY: NOV 20, 2015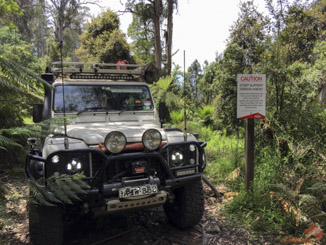 On Friday morning it was time to descend the more difficult Betts Creek Track to the Snowy River. It was quite a fun adventure, and when we got to the bottom we found a beautiful spot to stop and go for a hike. Even though you can camp at the bottom I would not recommend it, the small camp site is circled by huge widow makers and the man size fallen branches give an idea what happens if they end up on your tent. In the rain it would be impossible to get back up this super steep track. We had a nice swim in the Snowy River before heading back uphill. Afterwards, we hiked up Tulloch Ard Lookout where the views were absolutely amazing.

Next we drove along the Snowy River Road, which is known to be the most dangerous road in Australia, as it is narrow and windy with a big drop off on one side and often not wider then a truck. It is not recommended for those who have acrophobia. At the bottom we found a beautiful campground right next to Snowy River to spend our last night.
Stefan Fischer
14.10.2023
by Stefan Fischer
I hope you're all doing well. Today, I've got some tough news to share about a product I've been testing for quite some time now. This one really stings because it's a product I had high hopes for, and I'm genuinely disappointed to say goodbye to my dual 100 amp hour DCS lithium batteries under the bonnet of my rig.
I have to admit, there were several aspects of these lithium batteries that I absolutely loved. First off, the super-fast charging and the high charge and discharge current were a game-changer for me. Not to mention the weight and space savings I enjoyed with these batteries under the bonnet. It allowed me to make the most out of the limited space in the back of my cruiser.
I also managed to prove some skeptics wrong when it came to starting off a lithium battery and even winching off it. However, there was always one looming question mark, and that was the longevity of these batteries. You see, lithium batteries, especially LiFePO4, aren't particularly well-suited for high-heat applications, and that's a concern in the harsh Australian outback.
Before I dive into the nitty-gritty details, I'd like to ask you for a favor. It's important to me that this update reaches as many fellow travelers as possible, so please help me out by sharing, liking, subscribing, and leaving a comment below. Your engagement will boost this video's visibility, allowing more people to learn from my experience.
Alright, let's get back to the batteries. A capacity test was long overdue, and I teamed up with Joe from JS Autoelectrics to get it done. To be honest, the results were nothing short of shocking. One of the batteries suffered a whopping 30% capacity loss, while the other wasn't far behind with a 22% reduction. These figures far exceeded the promised annual loss of just 5%, as claimed by DCS.
To give you a bit of background, Joe installed the initial set of DCS 100Ah marine batteries back in November 2019. They performed well initially, but their Bluetooth functionality had consistent bugs that went unresolved. After about a year, that initial capacity test revealed significant issues, and that's when we discovered the outdated passive balance technology was the culprit.
DCS assured me that their new active balance batteries would solve these problems, but installing the dual 130Ah battery system proved impractical due to size constraints. Eventually, in February 2021, Joe installed the latest version of the 100Ah marine batteries, but a BMS firmware recall marred their performance. DCS sent replacements with updated firmware in November 2021.
Fast forward to the present, and after a few trips, I noticed a drop in battery capacity. Joe conducted a capacity test, and the results left us shocked. One battery was at a mere 50% capacity, and the other was less than 80%. Considering my remote touring habits, a battery failure in the middle of nowhere is far from ideal.
To make matters worse, Joe's experience with a 75 amp hour DCS marine battery in his Prado was similarly disappointing, with a 30% capacity loss in less than two years, even though it had low current draw and wasn't charged by the alternator.
I must mention that JS Autoelectrics has completely stopped using DCS batteries in their installations, but that's another story. Back to my situation, I reached out to DCS with my findings, and the response was far from satisfactory. They suggested moisture ingress as the cause, but we found no evidence of that when we opened the battery with 50% capacity loss.
Then, DCS surprised me by saying that my 30,000 kilometers of driving over 16 months had subjected the batteries to six times the expected punishment. Apparently, DCS measures battery lifespan in kilometers, which doesn't bode well for those of us who drive and tour extensively.
Both batteries were sent back to DCS, and I'm yet to hear from them. This left me in a bit of a bind because I have a big trip coming up in just four weeks, and I suddenly find myself without any batteries. DCS didn't have any replacement batteries to offer, which left me scrambling. Thanks to Joe's help, I'm now switching back to lead-acid under the bonnet and adding a different lithium battery in the rear of the Land Cruiser.
I'll be documenting this new setup in an upcoming video, so stay tuned for that. Overall, I'm not thrilled with how DCS handled this situation, but sometimes, it is what it is. I don't have any issues continuing to use my 150 amp hour DCS battery in the camper trailer. I'll probably run a capacity test on that too at some point. The two 130 amp hour batteries in the back of my Hilux will continue to serve, but they won't be subjected to the engine heat, which might make a difference.
In conclusion, my three-year experiment with lithium under the bonnet has shown that it can work for certain applications, but the high cost in terms of diminished capacity isn't worth it for me. If you're willing to replace your batteries every three years and have the budget for it, then go for it. However, based on my experience and Joe's, it's not a worthwhile investment for the long haul.
It's disappointing because I loved so much about lithium under the bonnet, but you never know until you try. As always, I report back to you honestly, and at this stage, lithium doesn't seem suited for high-heat under bonnet applications.
If you're currently using DCS batteries under the bonnet, I strongly urge you to conduct a proper capacity test. Don't rely solely on the state of charge displayed on the app; that won't give you the full picture. Get those batteries tested by a professional or consider purchasing capacity tests from reliable sources like eBay.
Keep in mind that this is my experience and Joe's, so if you've had different results, please share them in the comments. However, I can't stress enough the importance of conducting a proper capacity test because simply saying the batteries are working fine won't cut it.
In the end, I'm going back to lead-acid under the bonnet and a reliable lithium battery in the rear of the cruiser. It's a setup I trust and should last me for a long time. But remember, this is just my personal opinion. I'd love to hear what you think in the comments below.
If you found this video helpful or it saved you from making a costly mistake, I'd greatly appreciate it if you could share, like, and subscribe. This channel is entirely self-funded, and I don't do paid reviews. So, if you'd like to support me in creating honest and unbiased content, consider heading over to Patreon or buying me a coffee. A small contribution can go a long way in helping me stay independent and continue producing content for you.
Thanks a bunch, and I hope to see you out on the tracks soon!
Read more