Recent Posts
The journey in the Victorian High Country began at 6:30 in the morning on November 14th, 2015....

A Defender exploring the snow at the Vulcan State Forrest It was a cold snap that had most of...

Stefan's Land Rover Defender was featured in the August Issue of Landrover International
Victorian High Country Trip report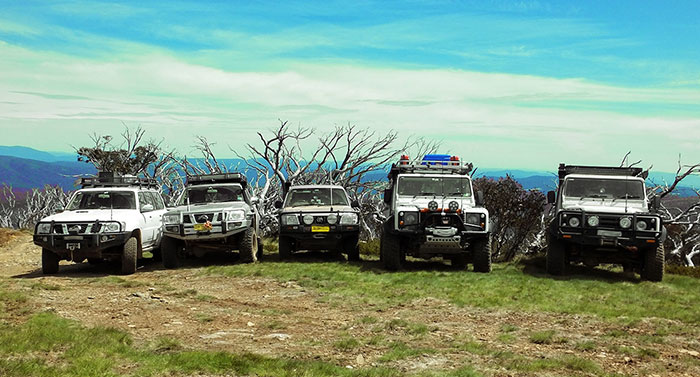 Victorian High Country Adventure Video Part 1
Victorian High Country Adventure Part 2
Trip Report
Wednesday 29.10.14
I had packed everything the evening before and departed around six in the morning. I had arranged to meet up with Bob at the Pheasant's Nest Servo. After an uneventful drive, we arrived at Tom Groggin around 4pm, and set up camp, that was soon invaded by quite a few kangaroos who came to greet us. Then, whilst trying to find a good campsite, Bob pressed one too many buttons on his UHF, which somehow disabling it. I made a quick call via the satellite phone to Dave requesting a spare handheld and charger to keep Bob in the communication loop.
By Stefan
Thursday 30.10.14
Kurt and I met up at Jindabyne, and from there we drove for an hour to our arranged meeting place at the Tom Groggin Camping area. Here we were joined by Stefan, Bob, David and Andrew around 45 minutes later. We were soon underway with the first challenge, which turned out to be the crossing of the Murray River. David volunteered to go first, and I could tell that the water level was lower now than it had been when I had crossed last year. The Prado was the only petrol vehicle on the trip, so I fitted my MSA water bra to reduce the amount water that could get high up into the engine bay. The crossing presented no problems for the Defender's 35" tyres and the water level was found to be only a couple of feet deep. The rest of us made it through without any problems.
On the track to Mount Pinnibar, we came across a sign that said "Seasonal Road Closures …Finished on the 30 October". We were a little bit concerned, as today was the 30th and the sign wasn't clear as to whether the track was still closed or open! Fortunately the Seasonal Road Closure maps available at the http://parkweb.vic.gov.au website stated clearly that the tracks re-open on the 30th, so all was well. The downside of being the first people to access the track since last season was that we would have to deal with some fallen trees. Quite a lot of fallen trees, in fact. Dave was an excellent person to be accompanied by, as all his years of experience and large chainsaw made navigating the trails much easier. In some of the situations, there were multiple large branches across the track, some of these under tension and others five or six feet off the ground. While Dave tackled the most challenging obstacles, Bob took care of the rest. My chainsaw had gotten lodged in a log earlier that day, and when eventually we got it freed, I flooded it whilst trying to restart it.
Whilst stopping for a late tea, I noticed a strange hissing coming from one of Kurt's brand new 35" Mickey Thompson tyres. Unfortunately, we found a large wooden stack about the size of a small sausage sticking out of the sidewall. Since it was getting late, we put the spare on and would attempt a bush repair on the damaged tyre when back at camp later in the evening.
We had to tackle a few steep sections which we all got up without any real difficulty. I was surprised that Bob's stock Patrol (other than a 2" lift) did so well on the climbs. The rest of us had lockers, so the Patrol's traction control was clearly working effectively. Poor Stefan decide to stand on top of a bull ant's nest to get some better footage, and wound up being badly stung and bitten.
We arrived at Shady Creek Recreation Area – Mount Pinnibar Hut - whilst it was still light. We camped in the grassy clearing opposite from the Hut, and although we got a decent fire going, I got off to be early as it had been a big day. Kurt tried to repair his damaged tyre with tyre plugs, but it was still leaking the next morning.
By Sebastien
Friday 31.10.14
Woke up to a sunny morning and fortunately it had not been a cold night as the Shady Creek Recreation Area. Mount Pinnibar Hut Camping Area is at a much lower altitude than the surrounding mountains. It is a beautiful and quiet campsite, set on the banks of a small river. It didn't take us long to pack up, although it took me a lot longer to disassemble and pack my "3 Second Malamoo" tent than it had been to set it up. There is a knack to being able to fold up these tents, so as I had just bought the tent and never used it, I had to spend some time downloading and then locally caching on my iPad a YouTube demonstration of how to do this. Unfortunately, my iPad decided to go up, so I no longer had access to this demo. More importantly, it meant that I could no longer access my Memory Map mapping application. Fortunately, Stefan showed me quickly how to pack the tent back in as he has a similar one. I still had my Garmin GPS unit with its off-road maps, so I could still get around it's just that these are not as detailed as the 1:25000 Topo maps I had loaded on the iPad.
Our first stop was at Wheeler's Hut, which had four beds (two bunks), with some very rough foam mattresses. There was a cast iron wood stove on one end of the hut, a small table, mirror on the wall, and a nice veranda. A pit toilet was located close by. There was also a short but insanely steep hill climb created by some comp trucks nearby, which unfortunately had a sharp turn towards the top on a dangerous camber, so it was decided we would not go that way. Dave did a test run up the first section of the climb to show that it could be climbed.
Our next stop was Mount Gibbo, which has a beautiful 360⁰ view point. Here Stefan took advantage of the location to do a photo shoot of the two Land Rover Defenders. It's a great backdrop for the vehicles and patches of snow were still visible in the background on the higher mountains that surrounded us. We stopped for lunch at a beautiful spot at Wombat Flats, which offers nice camping next to the river. Dave spotted a couple of large rainbow trout, which I was hoping we could have for supper if we stayed. However, as it was still early, we continued on our journey which soon turned into a battle of endurance, as each of the tracks we tuned into had more and more fallen trees. Eventually, we would have to give up on a particular route and try another to get around.
We briefly stopped at the disused Murphy's Mine, which still has a few bits of old mining machinery scattered across the site. After the mine visit just more of the same, yet again we discovered more fallen trees. About an hour before sunset and still some 10Km to 15Km from our proposed campsite, I notice fluid leaking out of my rear brake calliper. Brake fluid was leaking out from the piston on the rear calliper, so I made a quick phone call (fortunately one of the few occasions where we had mobile phone coverage) to my old 4WD TAFE teacher Terry Leeder to get advice on a bush repair.
In this case, we were to squish and bend back the metal brake line that runs along the rear axle. My first attempt failed, so we ended up losing all the spare brake fluid that Dave had with him. We then filled up the brake reservoir with water. I was skeptical about how effective this fix would be, but was extremely relieved to find the brakes worked very well.
I would like to thank Dave for all the assistance with the repair, and helping me out in this difficult and stressful situation. We were tackling some of the hardest terrain with extremely steep descents, and of course, it is now nighttime. The next issue we had was Bob losing a tyre, so Kurt stayed back with him to assist in its replacement. Dave drove on up ahead to get a head start with the more tree clearing. We finally arrived at the Poplars camping area just before midnight, but we were all so tired that we just had a quick snack and went straight off to bed. After only what seemed like a few minutes, when it fact it was already 5:30am, Stefan was waking me. He was concerned about the strong winds which had picked up overnight, and the possibility of us getting trapped if more trees were to fall. Poplars is a one track in and out camp ground. Unfortunately for me, I would have to leave the trip now and return to civilisation to get my vehicle repaired. I left the others at the Limestone Creek Camping area and drove back to Jindabyne.
By Sebastien
Saturday 1.11.14
Was pretty much an off day we decided to stay the day and night at the beautiful Limestone Creek Camp Ground. Although it was quite sunny in the morning, heavy clouds and rain closed in midday. I quickly put up a tarp, and we spent most of the day beneath it. Everyone except Kurt and Andrew went to bed early due to the lack of fire, though Kurt later managed to get a decent flame going with the wet wood.
Sunday 2.11.14
Today we agreed to leave towards Buchan, trying to source a spare tire for Bob and Kurt. The way out was via the Cobberas track, and would be the last day driving for Dave and Andrew which they were very much looking forward to. Everything started okay and the moderate track didn't really oppose any challenges, as we knew it had been cleared recently by a local four-wheel-drive club. However, around 40 minutes into the track, Bob reported a flat tire! We stopped and had a look at the tire, and unfortunately again the Dueller AT tires had a $.20 size hole in the side wall, as Bob already used this spare two days before we were in a predicament.
We had one oncoming car which was driven by Lou, a very nice fella from Omeo, who was kind enough to lend us his tyre lever, and also mentioned that we would not get tyres for a 17 inch rim anywhere around here. He offered to go back to Omeo and source a 16 inch rim, which we then would fit after removing the break calliper.
While Lou headed off to Omeo, Dave and myself thought about other way to temporarily fix the sidewall to get Bob back out. I had some tire patches which would not bond with provided glue, so Dave came up with a tube of casket sealant. Within two hours, we had Bob driving again, even though once in a while we needed to stop and top up with air. In the meantime, Lou arrived and offered to take Bob and Kurt back to Omeo.
Dave and Andrew headed back to Sydney, and I stopped at Native Dog campground for the night, undecided as to where I should also abort the trip three days in, or to continue on my own. I had a beautiful, sunny afternoon, made a nice campfire and during the night, listening to the wild brumbies all around me.
By Stefan
Monday 3.11.14
In the morning I managed to reach Kurt via my satellite phone. He was on his way to Bairnsdale to either source a new spare or, if not possible, get the damage tyre repaired professionally so it could be used off road as a spare, in case of emergency. We agreed to meet up at Omeo in the evening, since I was also keen to get a shower after four days without and address my swollen and sore foot. I settled in the Omeo Caravan Park for the night, and caught up in the evening with Kurt who decided to sleep at the local pub. We then agreed to continue our adventure and resume where we left off the day before.
Tuesday 4.11.14
We left the caravan park around 10am, heading back into the Alpine National Park via Limestone Creek Road to attempt the Cobberas track a second time. This time we had no issues, and it turned out to be a great track with some beautiful views, although very remote.
I was running two iPads, one with Hema, and one with Mud Maps, and the Hema maps showed McFarlane's hut which we kept an eye out for, but it could not be found. We later discovered that it burned down in the 2003 fires; so much for HEMA's map accuracy.
The track took much longer than we anticipated and at around 4 o'clock, I decided to follow a little sidetrack which after a couple of kilometres ended in a beautiful, riverside Bush campsite. We decided to set up settle there for the night, and soon had a nice little fire going. We received visits from a herd of brumbies, and also saw the occasional kangaroo. We walked by the riverside with drinks in hand, and enjoyed the late afternoon sun, reflecting on what a perfect day it had been so far, with the best driving of the trip at this stage. After sitting around the campfire for a while, we settled into our respective night quarters.

Wednesday 05.11.2014
We started the day deep in a hidden gorge somewhere in the Suggan Buggan Remote Wilderness area. The little known bush camp is next to a picturesque little mountain stream, having a steep rock face on one side and lovely pebbly beaches on the other. Wild brumbies, birds, wombats, and kangaroos are seen if you sit long enough to watch. The drive out is an interesting 4wd with some steep hills, smaller rock ledges, sharp switchbacks and great views when you climb out of the valley.
Next was a track which looked good on paper, but turned out to be one I would rather forget. It was rough as guts in the most boring way, with a big mud hole in the middle, and harp rocks and pointy branches which were just waiting for you to make a wrong wheel placement to cut your tyres to pieces. Halfway in the track, we surrendered and returned to camp. I'm still amazed that we managed to make it without another flat.
Next was the old Suggan Buggan Schoolhouse, which gave a good indication how rough life must have been back in the early days. I have a lot of respect for the early settlers of this beautiful continent, and certainly for the indigenous people who made a living here for many, many years before the white fella.
The road we continued on was not for the faint of heart, or someone with vertigo like myself. A single lane, winding road with a cliff on one side and a several hundred feet drop on the other demanded all our concentration. In certain places, the road was just wide enough to get the truck through; not a good spot to start thinking how much it goes down and that you are 100ks from the next smaller town. Luckily we did not encounter oncoming traffic and made it through safely.
We all agreed that this has to be the most dangerous road in Australia.
Thank you once again, Hema Maps, for having fuel stations in a place which is interestingly called Seldom Seen, which it turns out have been closed for years.
We continued on to have lunch at Little River Falls and took the 400m walk to see the nice waterfall.
Following a hunch, we made a left turn and drove up a steep fire trail with crazy high water runoff channels so that a good ramp over angle was required. The track ended at a dead-end high up the mountain, but after scrambling for another 10 minutes through thick forest, we reached Hanging Rock, a huge rock formation which opened up to the end of the world, at least that's what it felt like. If dinosaurs would have grazed in the valley, it would not have surprised me. The view was absolutely breathtaking, especially as dark clouds and sun fought for supremacy and provided a very eerie atmosphere. Sitting on the rocks with a several hundred meter drop, taking in the view and eagles circling above us was just pure magic.
We drove a couple of kilometers down and the did a turn onto the aptly named "World End Track", which brought us after some steep ascent and descents to a mountain top helipad, which gave us different views of the haunting valleys below.
Still dazzled by the beauty of the landscapes, we drove to Little River Gorge look out which after a steep walk, opened up Victoria's deepest gorge in front of us, again with spectacular views.
By now we had a sensory overload of nature, and overall these was probably the most spectacular day of travelling I've ever experienced in my life.
By late afternoon and it seems like clouds, wind and rain won the fight for supremacy, so we emotionally prepared ourselves for an unpleasant camp set-up and cold evening.
We could not have been more wrong. After a 30 minute drive again via a road not for people with vertigo, we arrived at the 4wd only Little River Junction Camp ground. Being a couple of valleys further, the late afternoon sun greeted us at one of the nicest river campgrounds I have ever seen.
We walked along the river and again could not stop admiring the scenery of the river surrounded by the valleys and thousands of little orange flowers blooming riverside.
My camp was set up high on the river bank with a million dollar view over the river and valley.
By Stefan
Thursday 6.11.14
I woke up at first light with the birds chirping away and announcing another hopefully adventurous day. Looking out of my bunk to the left presented me with a view to die for. The Snowy River below with a patchy layer of mist slowly meandering along the river, and all around the rugged mountains with some low hanging morning fog. The first hint of sunlight was just faintly appearing behind the mountains, providing for a spectacular view. I quickly peeled myself out of the bunk, grabbed the camera, and headed down to the river to take some photographs and enjoy some of the best nature impressions I had seen. Truth be told, I don't have the words to describe it accurately.
The drive in and out of Little Junction was only 4wd, and could be very interesting when wet.
After a nice breakfast of porridge cooked with coconut milk and mango slices, we packed up and made our way towards McKillop's bridge and the start of the Deddick Track. Mckillop's Bridge Road has to be one of the most spectacular but also most dangerous roads in Australia. Narrowly winding its way high up along the cliffs, at places with just enough space for one truck, some tight switchbacks and a formidable drop down in the valley made this again an interesting drive.
We checked out a couple of other camp spots on the way, and then crossed Mckillop's bridge, a reasonably old wooden structure that provides for some great views over the river. It's well worth a stop on the bridge, provided there is no oncoming traffic. We hadn't seen another car in the past three days. Once you stand on the wooden bridge and feel and hear the big sleepers creaking and moving, adrenaline, amazement, and even some fear is bound to shoot through you. Not to mention seeing the river some 190m below trough the gaps, it was time to keep moving and get of the bridge. As explained, heights are not my favourite thing.
Deddick Trail had been closed for quite a while after the formidable fires which ravaged the Snowy River NP, and just very recently has been reopened. As a matter of fact, the Road Closed Signs where still up, but we spoke with a Ranger some days earlier and he ensured us it was open.
Kurt had attempted the track many years ago, but had to abandon it at the time due to some bigger rock steps that he was not comfortable navigating at the time.
As we did the track north to south, we would be driving up the Mt. Joan Staircase, which we were looking forward to.
Deddick Track did not disappoint, while not incredibly challenging for our vehicles. It provided enough action to keep us happy. Tight switchbacks, steep hills (36 degree was the steepest I recorded on my iPads gyroscope), rocky and loose sections, some minor rock ledges, a few river crossings, and some narrow, winding tracks along deep drop-offs made this probably the best day driving this trip.
Mt. Joan Staircase is a steep hill climb (36 degree at places) with some tight turns, rock shelves, ruts, and a good drop off to one side. Not a track you'd like to encounter oncoming traffic on the way up or down. As I did not realise this was the Staircase, I did not have any lockers in, but the trusty Defender did what it was built for and pulled the truck with its sizeable 35" BFG KM2 on 18 PSI up the hills and rock steps with the traction control only kicking in occasionally. Kurt decided to play it safe and flicked the rear locker switches, only to find out his rear locker packed it in, so the Nissan's LSD and the 35" Micky Thompson MTZ's on 20 PSI needed to do all the work. All in all, Deddick's took us five hours to conquer, with some camera set-up and a short lunch included.
It's amazing to see how nature recovers. As far as the eye could see, fires once ravaged the NP, valley after valley, burned hillsides, but beside this fresh new green was growing everywhere. Huge black eucalyptus trees started shedding their bark, and new shoots sprouted on the massive trunks. The lower forest floor now had an abundance of light and green thick grass, and green saplings covered a lot of the once burned ground, sometimes the place was teeming with beautiful wild flowers. In certain areas, ferns with burned stems at a grown man's height where growing green new leaves on top of the once charred stem.
Exiting Deddick's, we turned right on to Yalmy Road, which again wound its way along deep drops, but was quite a bit wider so made for a reasonably pleasant drive. Some of the more adventurous side track we planned to take where still closed after the fires, and with only one chainsaw between our two cars, we did not want to take any chances.
We turned right in to Varney's Track, heading to Hick's or Jackson Crossing campsite. Hick's was completely burned out and very muddy. The path down had quite a few deeper mud puddles and some good rutted sections, so we headed on to Jacksons Crossing. Once we arrived at the crossing we faced the Snowy River, and while there was a clear entry point to the river, no exit was to be seen on the other side. The map only gave the indication that the crossing would involve two fords as the river actually has a fork coming in at the crossing and forms a Y intersection.
As I still had the open sores from the Bull Ant bites on my foot, Captain Nissan Quick Smart dropped his pants, put some sneakers on, and took off in undies and a Nissan shirt. It was quite a view.
The river is quite wide and we established already that the exit could not be straight ahead, so Kurt took off for a formidable walk through the cold river. He strayed away from the proposed route, and hit a deep patch which sent him in undies and his Nissan shirt flying head first into the water. He made it to the other end, but had difficulty finding an exit.
While Kurt was on his way back, I made a call via the Satellite phone to our Ground Charlie Ben to see whether he could find any more information about the crossing. By further walking up the river on my site and analysing possible fords, I concluded that we first needed to head to the dry middle part go the Y fork so Kurt, the trooper he is, pulled out all stops put the cosy on exposed upper body, so as to not wet his loved Nissan shirt. This time packed him his UHF in a Ziploc bag, as he was scared about drowning it.
Well prepared with the new information and some of my guidance from the river's edge, Kurt finally found the exit quite a way downstream and well hidden between bushes.
Inexplicably Kurt decided to exchange his swimmers with his bottom baby blue pyjama pants WTF…?
The water went up to the bull bar (on 35" and with 3" and 4" lifts) at its deepest, and we finally crossed the Snowy River successfully.
Daylight was running out, and we found a beautiful bush river camp not long after the crossing with a huge pile of wood still stacked, so Kurt mad a pretty decent six-foot size bonfire.
At 10pm I retired to my stretcher and fell asleep to the soothing sound of the Snowy River.

Friday 7.11.2014
I woke up early in the morning and went for little walk and to take some pictures of this beautiful valley, which looked spectacular with the sun coming up and the mist raising and moving along it.
We decided to leave later to let our tents and awnings properly dry. Turning around, I heard a funny noise and saw Kurt jumping around like crazy on his rear bar. I inquired and was told he was repairing his bent rear bar so he could open his tailgate again! Not sure when that happened, but Kurt must have gotten hung up somewhere.
Opposite our campsite was a pretty steep hill and a faint track which looked like it would go to a lookout. We decided to give the track a go, so for the first time in our trip my lockers were engaged and I headed up. At the midway, most of the cars who drove before us must have gotten stuck, as there were two big holes. Even with both lockers engaged, I struggled for traction at times. The gyroscope on the iPad had every warning light blinking in red, and showed an angle of 43° - the steepest I believe I have driven so far.
After a quick look around, we descended again, and you know, it is steep if the first gear low range is running away from you.
We made our way out towards Buchan which we reached after another two hours of driving. We had lunch at a little café and said our goodbyes.
By Stefan
Comments
prarmelay
11.04.2022, 23:51